NOTTINGHAMSHIRE
---
BLYTHE.

Overlooking the village green, an ancient stone building with a doorway dating from thirteenth century was once the leper hospital of St John the Evangelist. It was refounded in 1446 as a hospital for poor strangers and pregnant women and is possibly the earliest example of a maternity hospital outside London. (Three London Hospitals admitted pregnant women in the middle ages - St Thomas', St Bartholomew's and St Mary without Bishopsgate).

NOTTINGHAM.

Brewhouse Yard Museum. Castle Boulevard. Notts. Tel.0115 948 3504

Five 17th and 18th century cottages portraying aspects of life from Nottingham's past, including a reconstructed chemist shop and a doctor's surgery from the 1930's.

The Nottingham Medical Chirugical Society have a fine library of books amounting to 1600 volumes housed in the University Medical Library.

Boots Visitor Centre Museum

.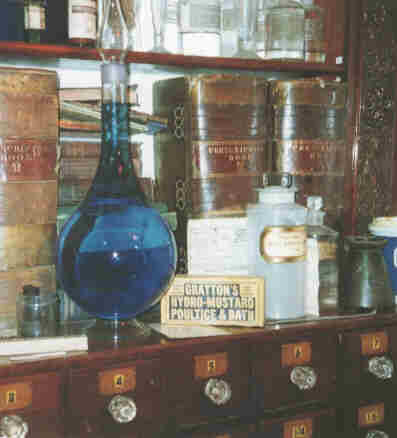 Jesse Boot, who was born in Nottingham in 1850, has become a household name in Great Britain having founded the eponymous manufacturing and retail chemist business, which started from a little shop in Goosegate, and now has branches all over the country. Even in 1901, the company had 251 branches, with several in Nottingham itself. In 1903 one of the Nottingham shops was demolished and a prestige department store, built in the Gothic style was erected in its place. This trend was continued elsewhere, largely due to the enthusiasm of Boot's wife who had a passion for interior design and ornamentation. Towards the end of his life, Jesse Boot was created Lord Trent in recognition of his beneficence to University College, Nottingham. He also endowed parks, boulevards and hospital wards in the city. Boot died in 1931 and was succeeded by his only son, J C Boot.

The small museum is sited on the company's three hundred acre site and is usually packed with visitors who seem to arrive by the coach load. The usual apparatus of Victorian pharmacy is on display as well as a Dutch 17th century medicine chest.