DEVON
---
EXETER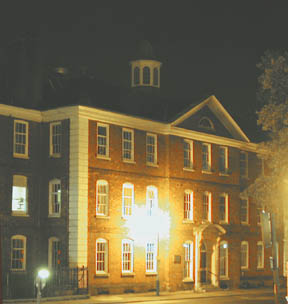 Royal Devon and Exeter Hospital. The original 18th century hospital buildings (see right) survive in Southernhay but are now used as the administrative centre for the Health Authority. The present day hospital was re-sited at Wonford in the 1970's. The first hospital to be built on this site had a relatively short-lived history as it suffered from "concrete cancer" and required demolition and replacement after a mere 20 years. The Exeter Postgraduate Medical Centre is also on the Wonford site and houses a collection of artefacts relating to the history of medicine which are now in the care of the Devon & Exeter Medical Society. There are also a

number of portraits of medical men hanging in the Centre including a painting of John Patch by the artist William Gandy, an itinerant painter who settled in Exeter and is said to have been resentful in character and dissipated in habits. Gandy was a grateful patient of his subject who is pictured wearing a full bottomed wig and demonstrating the dissection of an arm. John Patch died in 1746 at the age of 55.

Other portraits in the centre include Dr Thomas Glass (1709-1786), an early exponent of smallpox inoculation painted by Opie, Dr Michael Lee Dicker by Hudson, Dr Bartholomew Parr, and Dr John Sheldon. The latter individual distinguished himself by embalming the body of a young woman who had been a patient of his before her untimely death from tuberculosis. The body was kept on permanent display in Sheldon's bedroom until his own death in 1808 when it was transferred to the more proper surroundings of the Royal College of Surgeons in London. It was ultimately destroyed by a bomb which fell on the building during the last war. Sheldon was a man of many interests. In 1784, he ascended in a ''Grand Aerostatic Balloon'' with the famous French aeronaut, M. Blanchard, on course for the south coast. The journey commenced in Chelsea but for some reason, Sheldon only got as far as Sunbury and M. Blanchard was left to complete the rest of the voyage unaccompanied. He eventually landed at Romsey in Hampshire.

Early X-ray photographs and apparatus

are also kept at the postgraduate centre. The Devon and Exeter Hospital had one of the earliest radiology departments in the country.

Cathedral Library. There are numerous works by medical authors in this elegant and ancient library.

West of England Eye Infirmary

, Holloway Street. This institution has the distinction of being the earliest provincial eye hospital, founded in 1808. There were many successful cataract operations performed here in the early years. One patient discharged from the infirmary during its first year walked home a distance of twenty miles. The original premises was vacated in 1813 and the hospital moved to Magdalen Street. The building has recently been stylishly converted into the Barcelona Hotel.
| | |
| --- | --- |
| | The Exeter Dispensary on the corner of Queen Street and Northernhay Street was founded in 1818 but moved to its ultimate site in 1840. It accommodated patients with infectious diseases and accidents in addition to more chronic cases. Within months of the new building's completion, an ophthalmic surgeon who was passing in his horse and gig was surprised to find his conveyance sinking into an old well shaft, taking him and his horse with it. He must have survived the experience because he sued the dispensary for damages. The dispensary closed after the inception of the National Health Service when it was used for administrative offices. |
HONITON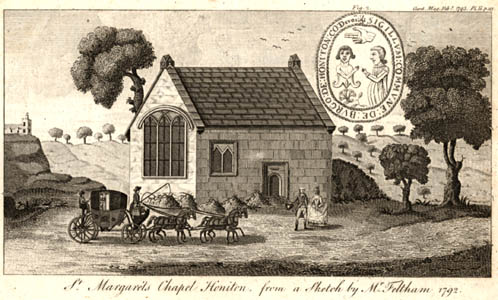 Leper Hospital.

Half a mile out of the town on the Exeter road are some cottages and the 16th century chapel of St Margaret's almshouses, once a leper hospital before being rebuilt in 1530.

Marwood House at the end of Honiton High Street was built by the son of Dr Thomas Marwood, Queen Elizabeth I's physician who survived to the age of 105 - his black marble tomb is in St Michael's church. He became famous through curing the Earl of Essex, a favourite of the queen.

LUNDY ISLAND

Anyone visiting this island off the north coast of Devon may be unaware that there was once a thriving granite quarry here which had its own hospital. The ruins are still visible but little else to indicate its purpose.

KINGSBRIDGE.

As with many other ''social life'' museums, the mahogany and glassware of a former chemist's shop has found its way to the Cookworthy Museum of Rural Life where it is now exhibited. The museum can be found at 108, Fore Street.

NORTH TAWTON

William Budd started his professional career here as village doctor and had to deal with a typhoid epidemic during which time he realised the disease was spread by contaminated drinking water.

PLYMOUTH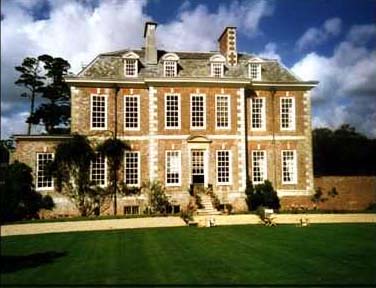 Puslinch. Once the residence of James Yonge, a noted Plymouth surgeon who was born in 1648. Yonge, a Fellow of the Royal Society kept a diary which was ultimately published in 1963. (''The Journal Of James Yonge'', ed. by Poynter, F.N.L. Longmans. Bristol. 1963) He was the first to publish an account of amputation by flaps. The Plymouth Public Dispensary (founded in 1798) bears a memorial to Yonge on one of its walls and owns a portrait of him.

Arthur Conan Doyle, author of the Sherlock Holmes stories was for a time a general practitioner in the city.

dates from 1797 and provides an early example of the 'pavilion' style. It is mnow a school. The Royal Naval Hospital, Stonehouse dates from 1761 and is an impressive building with a central block, cupola and colonnades. It was sold by the Navy and is now part of a large commercial development. Cornish artist David Kemp has designed statues of naval nurses with their aprons flying like sails in the wind, which sweep up the avenue between the old Royal Naval Hospital and new commercial and industrial units. Royal Eye Infirmary was founded in 1821 by Doctor John Butter and Dr Edward Moore despite a great deal of local opposition. Its first site was a house in Cornwall Street. The present infirmary at Mutley dates from 1901.

St Andrew's church has a memorial showing a doctor (William Woolcombe) at the bedside of a cholera victim.

The Plymouth Public Dispensary was opened in 1809 and the premises still stands in Catherine Street between St Andrew's church and the Guildhall.

TOTNES

Museum. There is a set of ivory false teeth and a few other medical artifacts in the museum.

Leechwell Lane - an old pathway leading to the Leechwell, a medieval healing well consisting of three granite troughs.